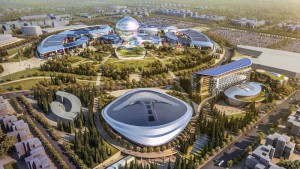 On November 22, 2012, Astana was chosen by the International Exhibitions Bureau (BIE) as the venue to host Expo 2017. It will be the first time that a major international exhibition of this kind is coming to a country from the former Soviet Union. More than 100 countries and 10 international organizations are expected to participate. Around 2-3 million people are expected to visit the international pavilions from June to September 2017.
25 hectares (62 acres) is planned for the pavilions of Expo 2017. The site has a convenient access to Astana's city center, the international airport and the railway station. The Expo Site is also linked with a network of Kazakhstan's inter-city roads to ensure a quick access from all the country. Construction of the pavilions will begin April 2014 with 20 companies from Kazakhstan and 49 companies from around the globe.
Designs were considered for the grounds of Expo 2017 from architects in the UK, USA, Germany, Austria, Netherlands and China.
On April 24, 2014, the President of Kazakhstan Mr. Nursultan Nazarbaev took part in a capsule-laying ceremony of the Astana Expo 2017 Exhibition Center construction in Astana, which will be located near the Nazarbayev University.
Astana submitted its registration bid to the BIE in December 2013, as planned.
On June 13, 2015, the Chief Executive Officer of Astana Expo 2017 organization committee, Talgat Yermegiyaev, was indicted for corruption. The new CEO is Astana mayor Adilbek Zhaksybekov
Kazakhstan's largest airline, Air Astana, was named the "Official Air Carrier of Expo 2017".
In preparation for the Expo 2017 the administration of Astana launched several "smart city" projects. The projects imply introduction of digital technologies in such areas as payment, education and healthcare.
The Energy Best Practices Area (eBPA) Pavilion at Expo 2017 will showcase the 17 best energy-generating projects. These projects were selected from 136 submitted from more than 25 countries.
Copyright Text Wikipedia